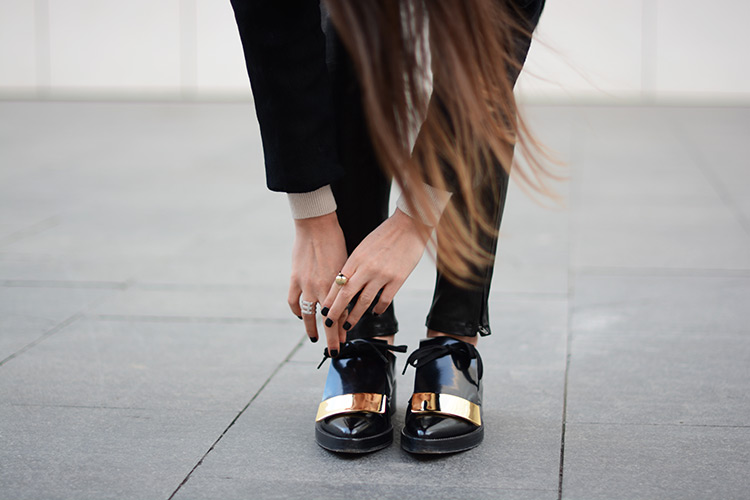 Posted by fashionvibe
On January 23, 2015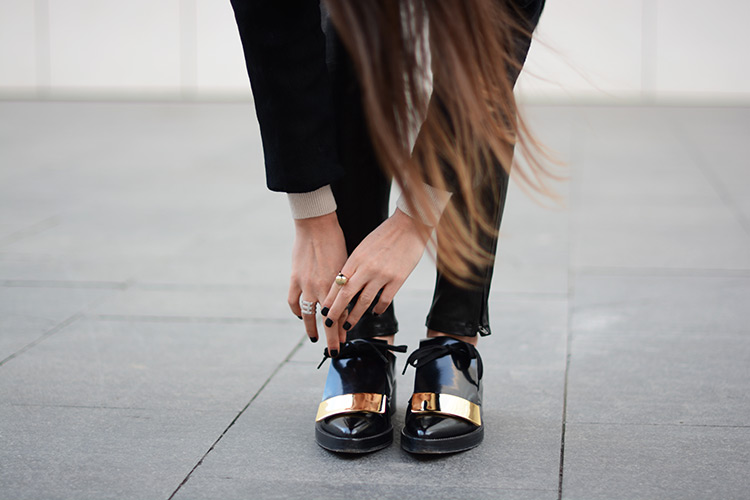 Shoes: Marni, Coat: Purificacion Garcia, Leather Pants: Jbrand, Sunglasses: & Other Stories (Similar), Belt: Zara (Similar), Bag: Saint Laurent
Happy Friday everyone 🙂 This week I visited Milan and Berlin for the Fashion Week and I must say it was another amazing experience for me. Men's Fashion Week is always exciting and I attended a lot of shows and events there, such as Vivienne Westwood, Costume National, Calvin Klein Collection, Moncler, Missoni, Philipp Plein and Versace. After that I flew to Berlin to join the Blogger's Bazaar events and also attended some of the fashion shows there! It was my first time in Germany and I definitely want to go back soon! Everything was so great and I had the chance to meet a lot of bloggers in person and also brands!
Back to my look; Black means elegance and I am a big fun of the total black looks! Today I'm presenting one of the most chic furry coats I've ever worn. I love the shape and I think it looks super feminine. A pair of leather pants it's a must for every woman's closet and I think I found the perfect ones for me. They are by Jbrand and I'm obsessed with their quality and the way they fit…you must try them. The Marni flats were my dream shoes for this season. I fell in love with them since the first time I saw them at the Marni show in different colours. They go with everything and they look super elegant with total black looks given to the metallic details. I needed a gold chain bag to complete my look and Betty by Saint Laurent was the perfect choice! Enjoy and have a great weekend 🙂
Esta semana estuve en Milan y Berlin Fashion Week y ha sido una experiencia maravillosa. La semana de la moda de hombre es siempre mas relajada que la de mujer pero siempre hay desfiles y eventos importantes. Unos de mis favoritos fueron Versace, Moncler, Calvin Klein, Vivienne Westwood, Costume National, Missoni y Philipp Plein. Despues de Milan tuve la oportunidad de visitar Berlin por primera vez y me enamore de la ciudad. Os contare mas muy pronto.
Volviendo a mi look; Hoy llevo un abrigo de pelo de Purificacion Garcia, que es unos de mis favoritos de este invierno. Sienta genial y es muy femenino y elegante. Combinado con mis Marni en negro, pantalones de cuero (que nunca pueden faltar de tu armario), de Jbrand y mi bolso Betty de Saint Laurent. Que os parece?
Photography: Iban Kosko (Instagram: @ibancm)